Disposables Kit (Single Face)
Free Freight for orders over $100 nett (after discount if applicable)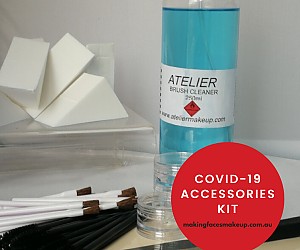 This kit has been designed for single face use to reduce the risk of cross contamination, or virus spread, from one client to another.
The Kit Contains: 1 x pack 25 Disposable Mascara Wands; 1 x pack 25 Disposable Lip Brushes; 5 x Stackable Pots (for powder decanting); 1 x pack 8 Sponge Wedges (Block); 1 x 250ml Bottle Atelier Brush Cleaner; 1 x Mixing Tile; 1 x Pallet Knife.
NOTE: Trade Price no discount applies.
1 x DAK FREE if you order 4 x COVID Brush Kits
We suggest these companion products